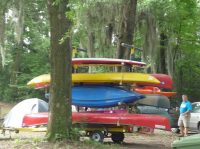 A great group of enthusiastic kayak and canoers gathered for the Autauga Creek Inaugural Paddle weekend July 20-22, .  The weather was great for the most part.  A little rain cooled off the air but didn't dampen any spirits.  Don and I were either busy cooking or picking up and delivering food for the event.
The weekend events started on Friday with Dr. Bob's Traveling Snake show and catered pulled pork sandwiches from Fat Boy's in Prattville.  Learned lots about the local snakes!  He had great live displays.  The kids were definitely fascinated with them.  We were also treated with a homemade rum pound cake.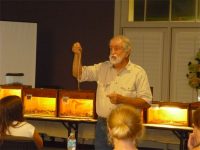 Don and I made breakfast burritos, with Joann's home grown fresh eggs, for Saturday and Sunday mornings and took them to the Autauga Creek Canoe Trail Park along with hot brewed coffee.  Everyone was very appreciative of the food and coffee before they launched out on the creek.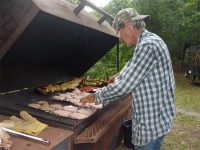 Saturday night was fun too.  Don flipped hamburgers and fresh corn in the husk on the grill for dinner.  Everyone was also treated to apple cake made in dutch ovens by one of the locals.  Really yummy.  I want to try it myself in my dutch oven too.
We hope everyone will come back next year and bring a friend for this great event.  Look for updates on the autaugacreek.org website.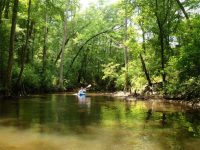 Autauga Creek is just beautiful and shaded too.  It's a great creek to explore and it's all just a few minutes drive from Kountry Air RV Park.  It's a great way to spend a weekend with friends and family!  Kayaks and canoes can be rented just down the road. So come camp and canoe with us!!