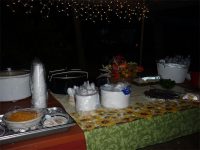 Fall has arrived. It's a wonderful time of year to be outside and enjoying campfires at night.
We had a great chili night and campfire on October 10th. Good food and great guests – life is good!!
Our guests are excellent cooks and best of all they share!
My sister, Nancy, came to visit for a week from Carson City, Nevada. Her first visit to Alabama. It was so good to see her! As always, she was a great help and the time went by way too fast. The black walnuts were falling so we spent one beautiful morning picking them up while Don was trimming trees.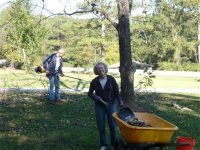 We did get a chance to go to Cooters Pond, Buena Vista Mansion, Spinners Park Craft Festival and old downtown Prattville for a walk along Autauga Creek and lunch at Uncle Mick's. Uncle Mick is the owner/chef. We enjoyed his hospitality and cajun cuisine. We highly recommend eating there.
The Spinners Park Craft Festival was great too. There were some very nice crafters and unique crafts. We loved the pumpkin carving contest. Lots of creativity!
October was a busy month and we appreciate all our guests who come and stay with us. It is a pleasure to meet new ones and to visit with friends returning. Thank you too, Mike and Christine, for all your yummy smoked brisket and homemade sauce. We really enjoyed it.
That's all for now! Keep checking back for new blogs on what's going on!