Kountry Air RV Park is centrally located in the River Heritage Region of Alabama
The Heart of Dixie!
Rich in history and lots of great outdoor recreation and sports!
Tour Buena Vista, an 1820's antebellum mansion.
Open to the public on Tuesday from 10am to 2pm
Prattville – The Fountain City
Visit Prattville's artesian drinking wells.
Fill up your bottles and jugs.
Right behind the Prattaugan Museum and at Heritage Park.
Creative Arts Center
Permanent exhibits. Also offers classes & workshops.
334-595-0854
Alabama Wildlife Federation – Alabama Nature Center
NaturePlex open Monday – Saturday 9-4pm
A wonderful place to visit – a short 20 minute drive from Kountry Air RV Park
Check out their website at alabamawildlife.org
3050 Lanark Road | Millbrook, AL 36054 | Toll Free – 1.800.822.9453 | Email – awf@alabamawildlife.org
From Exit 179 off I-65 (Prattville/Millbrook) Turn right (go east) on Cobbs Ford Road approximately ¼ mile and turn left on Edgewood Drive (first paved road to the left past Chevron). At the "T" in the road, go right approximately ½ mile and turn left onto Lanark Road.
Check out local events in Old Town Alabama in Montgomery
www.funinmontgomery.com
or
www.visitingmontgomery.com
Riverfront Park, splash pad, concerts, river boat ride…
Prattville is known as the "Fountain City" for its pure artesian wells. Fill up your water bottles and stroll along the Creek Walk and Daniel Pratt Historic District with its quaint restaurants and stores.
Feel like floating down or playing in Autauga Creek with the kids? Launch your canoe, kayak or float and paddle down the lower section of Autauga Creek. Entry is right behind the City Hall in the Daniel Pratt Historic District of Prattville. It's part of the Alabama Scenic River Trail! For more information on the Autauga Creek Canoe Trail, conditions, water levels and events, check out their website at www.autaugacreek.org.
Prattville is very rich in history and played a significant role in the Industrial Revolution. Visit the Prattaugan Museum and Heritage Center, 102 E. Main St. 334-361-0961. The volunteer docents will give you a delightful tour of local history. The Buena Vista House, circa 1830, is located on County Road 4 and is open on Tuesdays for tours or by appointment. A step back in history!
Don't miss the Wilderness Park on Upper Kingston Road. Walk among the giant bamboo and bird watch in this unique park.
Pratt Park has a community swimming pool and Splash Park open 8am to dusk daily. Great fun for the kids.
FISHING
Recreational bass fishing and national bass pro series tournaments are held near-by on the Alabama River.
There are two boat launches close by.
Cooter's Pond Boat Launch, a quick 14 miles from here (2 signal lights) and Swift Creek Landing, 11 miles from here. Both are convenient places to launch your boat and head out to the Alabama River. Stop by to pick up your copy of the Alabama Bass Trail Map. Good luck on catching the big one!
GOLFING
Just 15 minutes away is world class golfing on the Robert Trent Jones Golf Trail – Capitol Hill. Swing your clubs by day and enjoy a relaxing campfire after the day is done. (RTJ Golf Trail at Capitol Hill)
HUNTING
There are hunting areas within a short drive from Kountry Air RV Park. We are your ideal base camp. Bring your own RV or rent one of our well equipped trailer rentals for the hunting season. Call us today!
BIRD WATCHING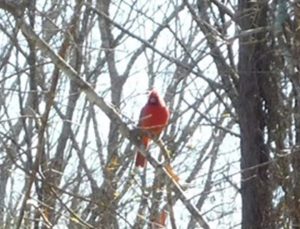 Bird watching starts right here at Kountry Air RV Park. Every morning, the birds anxiously wait for Don to come out and feed them around 8am. We have lots of Cardinals, Wrens, Blue Jays, Woodpeckers, Doves and many more feathered friends. The early morning air is filled with beautiful bird songs. Please come join us on the pool porch for Kountry Air bird watching anytime.
Another place to bird watch is Cooter's Pond or spend the day following the Piedmont Plateau Birding Trail – Crater Loop Trail. Check out the map in the Kountry Air RV Park Office. The Autauga Blue Bird Trail is close by too. Cooter's Pond Park also hosts a See, Pick and Eat Nut Park, Dog Park, and Boat Launch. A great place for a picnic.
ANNUAL THANKSGIVING DINNER
We regretfully will not be holding our Thanksgiving Dinner in 2020 due to COVID 19, however we are open year-round so you are welcome to stay.  We wish everyone a wonderful, safe holiday and many thanks for staying with us!  Best regards, Don and Gigi